July / August 2018 - Retirement Strategies Newsletter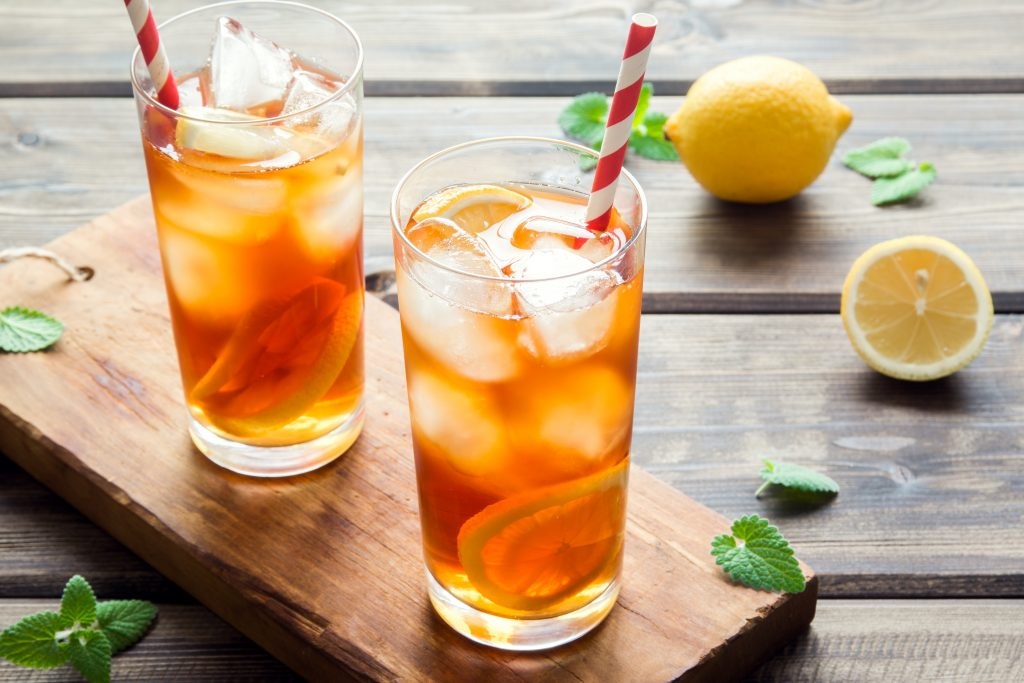 Inside This Issue:
---
Notes on Our Southern Culture
by David Shucavage
Recently, while walking our dog Dogma near Wilmington's Riverfront Park, I read a plaque about Lippitt's Ice House. It piqued my interest enough to do some research into the history of ice houses, only to discover that their history is entwined with that staple of southern culture – sweet ice tea. Of course, if you come from the north, you have probably discovered that stating "sweet" and "ice" is unnecessary in any restaurant order; "tea" says it all. It's when you want an unsweetened or hot tea that you need to be explicit. Anyway…
Ice houses allowed a trade in ice that was a major part of the 19th century economy of New England, where ice was chopped from lakes and ponds and stored until warm month shipment to southern states. In Wilmington, the ice was delivered by schooners to Lippitt's Ice House, a three-story structure built in 1840 on Water Street; the building had second and third level doors that allowed direct transfer of 125-175 pound blocks of ice from the schooner. Insulation was provided by 16" brick walls and an additional interior timber wall enclosing sawdust. From there, the ice was delivered by horse-drawn ice wagons to homes and businesses to be placed in "ice boxes." My wife says that her grandmother, who celebrated her 100th birthday in January of 2006, always called her refrigerator an ice box.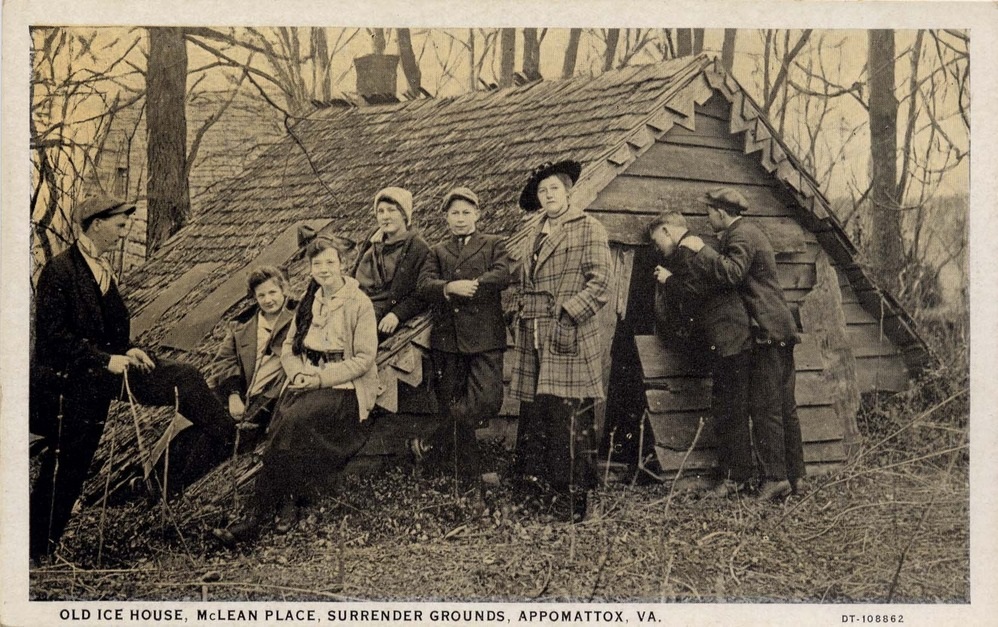 A postcard of some folks outside an Ice House in Appomattox, VA | Image courtesy of the National Park Service
Once ice was available, American versions of English tea punches became popular. Made with green tea, they were heavily spiked with liquor, and I mean heavily! One recipe I found called for 1 ½ pints of strong tea, 2 ½ cups of sugar and a bottle of claret, all over ice. I suppose that eventually, they had to leave out the claret in order to get through the day, but a vast amount of sugar remains. My wife once volunteered to bring tea to a large gathering and put out calls to southern friends to find out how much sugar to add – she was shocked when the answer was at least 4 cups per quart. She couldn't force herself to do that and cut down the measurement considerably. No one complained, but maybe they were just being polite.
Before its removal in 2004, the Ice House was a place loved by many where people of all ages gathered to listen to music and dance in its outdoor courtyard. There was a great deal of controversy when condominiums were proposed but, sadly, the condos won out. Lippitt's Ice House is gone, but hot days and sweet tea remain.
---
The Bookshelf
We are pretty dedicated readers in this office, so we've decided to share our thoughts about books we've read recently. We'll probably share the ones we like best, but there are really no rules here, so we might warn you away from something. You just never know. Give us some feedback or even better—share your favorite book with the rest of us by emailing info@carolinarp.com.
Cottage by the Sea by Debbie Macomber
Reviewed by Chris (A Midlife Wife Blog)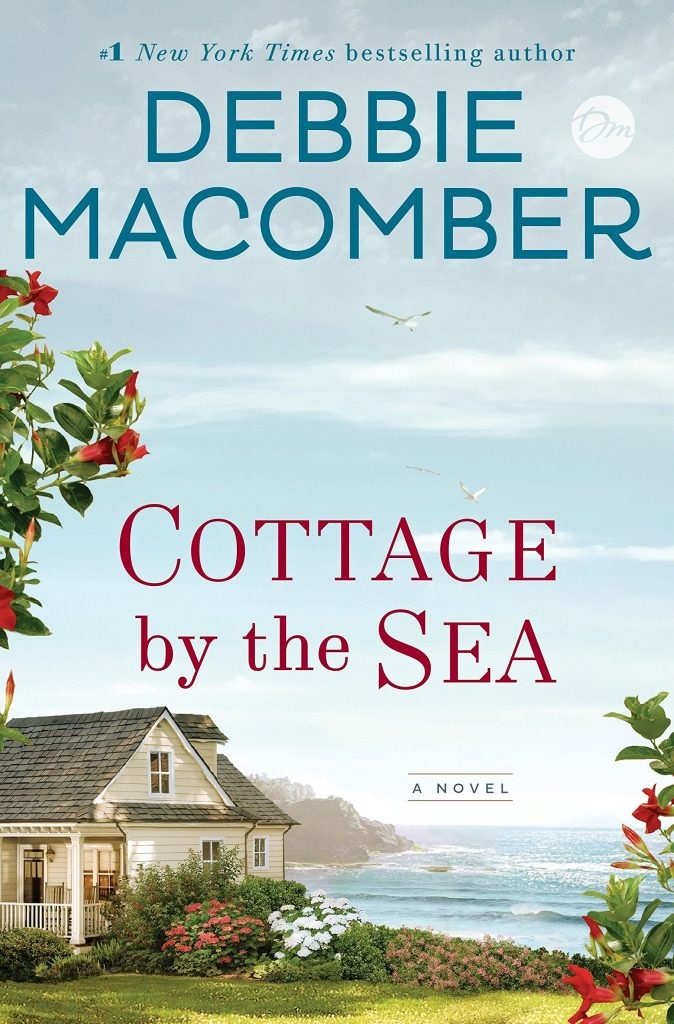 Cottage by the Sea by Debbie Macomber Reviewed by Chris (A Midlife Wife Blog) I have read many books by Debbie Macomber over the years. She is a true superstar of beautiful contemporary romance. So whenever I'm able to review a new one by her, I try to be first in line.
Many of her books have similar themes and that's okay because of the warm comfort that she gives us. But this book something completely different. I just could not put it down. Here are my thoughts.
Annie Marlow has been through the worst. Rocked by tragedy, she heads to the one place that makes her happy: Oceanside in the Pacific Northwest, the destination of many family vacations when Annie was a teenager.
Once there, Annie begins to restore her broken spirit, thanks, in part, to the folks she meets: a local painter, Keaton, whose large frame is equal to his big heart—and who helps Annie fix up her rental cottage by the sea; Mellie, the reclusive, prickly landlord Annie is determined to befriend; and Britt, a teenager with a terrible secret. But it is Keaton to whom Annie feels most drawn. His quiet, peaceful nature offers her both comfort and reprieve from her grief, and the two begin to grow closer.
Then events threaten to undo the idyll Annie has longed for. And when the opportunity of a lifetime lands in her lap, she is torn between the excitement of a new journey toward success and the safe and secure arms of the haven—and the man—she's come to call home.
In this heartwarming tale, Annie finds that the surest way to fix what is damaged within is to help others rise above their pain and find a way to heal.
When you pick up a book by a favorite author like Debbie Macomber, you tend to know what you're going to get. Similar themes and that warm sweet romance that we love. However, this book was something so much more than that. It literally grabbed me from the beginning and never let me go. I feel like I was either crying or smiling throughout the entire story.
We all have heartbreak in our life but not the type of heartbreak that this book is about. However, the author took a deep and highly emotional story and created a main character that was barely living and breathed new life into her.
The author also created a big, strong man who could bear the weight of her brokenness and pain and give her strength, love, and caring. And she also gave him the same. The connection these two characters had was amazing.
Trust me when I say this book will be difficult to forget. Cottage by the Sea has left a deep impression on me as well as a longing to find my own happiness by the sea. This is definitely a book you will read again and again. Fabulous story.
---
Gazpacho in 10 minutes or less!
Gazpacho is a classic Spanish dish that originated in the southern region of Andalusia. It is widely eaten in Spain and Portugal, particularly during the hot summers, as it is refreshing and cool.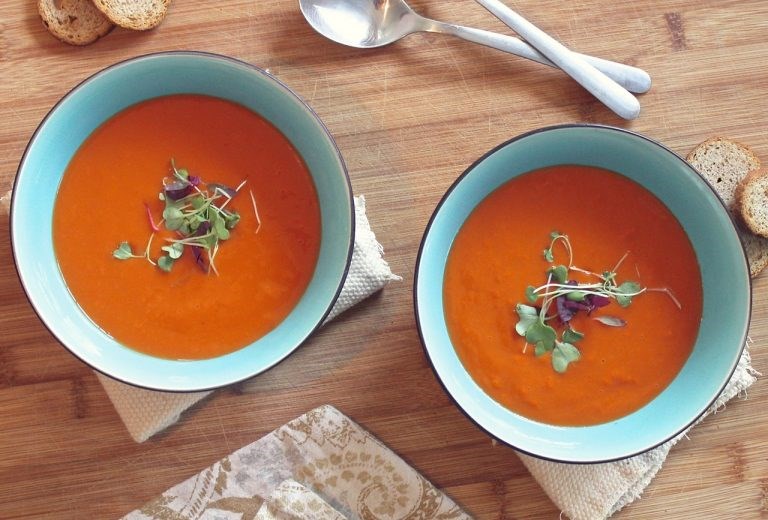 INGREDIENTS
2 pounds fresh tomatoes (I used a mixture of Roma and cherry tomatoes)
1 English cucumber, peeled and cut into large chunks
1 small red bell pepper, cored and cut into large chunks
1/4 of a red onion, peeled
2 garlic cloves, peeled
1/4 cup lightly packed fresh basil leaves
2 tablespoons fresh lemon juice
1 tablespoon olive oil
pinch of Kosher salt and freshly cracked black pepper
optional garnishes: crushed red pepper flakes, extra chopped tomatoes, red onion, basil, olive oil, and/or salt and pepper
DIRECTIONS
Add all ingredients to a blender or large food processor, and puree until completely smooth. (If all of the ingredients don't initially fit, you can puree the first half of the ingredients, then gradually add more in as there is more room available.)
Taste, and season with extra salt and pepper and/or lemon juice if needed.
Cover and refrigerate for a few hours to chill. Or serve immediately, topped with your desired garnishes.
---
A Little Laugh
We all need a little laugh from time to time hope you find this one as funny as we did.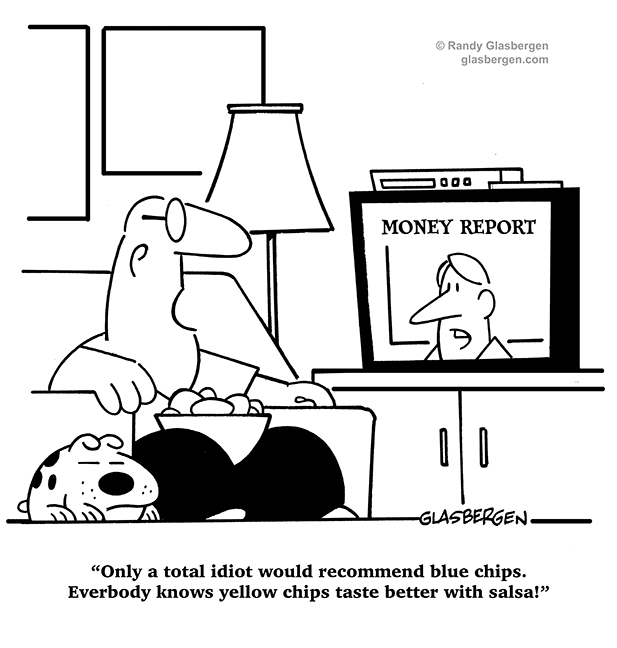 ---
Where is Flat David?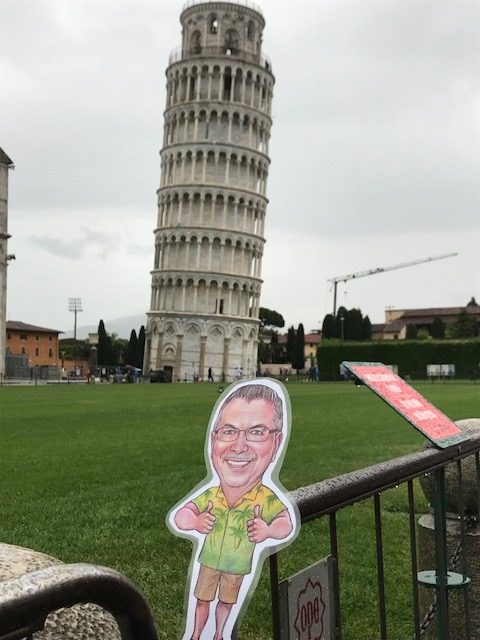 Flat David has been traveling all over the world with our amazing clients. This time he is brushing up on his Italian with Ben & Carol at the Leaning Tower of Pisa!
The Flat David Ditty

It's so nice to meet you!
My name is flat David.
May I take a trip with you?
Could you be persuaded
Be sure to include me
In your vacation pics.
Send them back to our oce
And give "real me" a kick!
You could win a prize
Based on how far we go.
Or maybe the most exotic
Or most unusual place, who knows!?
So, without further ado
Let us be on our way.
To your favorite destination
Hip hip hurray!
Click here to see all the amazing places Flat David has journeyed to or get your own flat David and decide where he will go next!
Already got some great snaps with flat David? Submit your images to info@carolinarp.com to be included in our gallery.
---
Know someone who would like our newsletter? Share this link so that they can subscribe to our newsletter. Or we will mail them a paper copy.
---
Investment advisory services offered only by duly registered individuals through AE Wealth Management, LLC (AEWM). AEWM and Carolina Retirement Planners are not affiliated companies.
#AW532746